The "Iron Max" Well Water Iron Filter

Iron Filters For The Whole House

Chemical-Free Iron filter, Manganese and Hydrogen Sulfide Removal System
Unlike many Iron removal systems that require the use of chemicals,the whole house Iron Max is chemical and maintenance free!
Filters Iron ( Ferrous & Ferric), Manganese, Hydrogen Sulfide Gas "rotten egg odor"!
Prevents Staining on Bathroom & Kitchen Fixtures!
No more iron in your washing Machine!
Clothes are cleaner and whites are whiter!
Prevents Staining on Dishes, Dishwasher!
Prevents " Rotten Egg Smell" (i.e. Hydrogen Sulfide).
Clearer water at every tap including: Showers
Higher Quality Drinking Water!
Provides whole house filtered drinking water!
The Iron Max is shipped with filtration media already in the tank. WE DO NOT ship filtration media separately for our customers to pour in.
No Routine Service Expense or filters to change!
Simple to Install - Connects to the Main Supply Line of your House!
The Iron Max can be plumbed in doors or out doors!
The Iron Max has a great warranty!
For sulfur reducing bacteria removal we recommend chlorinating your well before installing this system. This is a fairly simple process in which we will supply easy to follow step by step instructions.
The Iron Max is considered a maintenance free whole house water filter. There are no routine filters to replace and requires no chemicals. The Iron Max will filter and clarify your water by filtering iron, manganese, hydrogen sulfide gas, and suspended solids in the water. It will also improve the taste & odor of your water. The Iron Max is controlled by a selfbackwashing control valve which will initiate a 10 minute backwash and then a 10 minute rinse (some applications require longer backwashes) approximately every 4-5 days depending on iron levels. The filtration media will need to be exchanged approximately every 8 to 10 years*. This is easily accomplished with the use of a wet & dry vacuum which you use to vacuum out the old filtration media from the top of the filter. You then replace it with a new bed of filtration media which will last approximately another 8 to 10 years*. This is the only maintenance that the system will require. * Some applications may require a more frequent replacement interval.
We also offer the Fleck 2510 Manual non-electric backwashing valve with the Iron Max. This valve is perfect for cabins, cottages, or homes where power requirements are a concern. Call for details 1-877-788-8387
RainDance Water Systems can assist you in all of your water treatment needs. There's no need to go anywhere else. With over 80 years of combined experience in the water treatment business our support team can quickly & accurately answer all of your water filtration questions. Our resources include engineers and water treatment professionals which utilize virtually all known water treatment processes assuring our customers of the most economical, dependable, and environmentally friendly solutions. Our water treatment systems range from domestic residential households to large commercial and industrial operations.
For larger flow rate requirements see our Commercial Iron Max
Our water treatment customers include numerous commercial applications, residential households, business facilities and farms throughout the United States, Spain, Canada, Japan, U.K., Bahamas, Cayman Islands, Indonesia, Taiwan, and Malaysia.
A small sample of our water filter customer base includes: The U.S. Environmental Protection Agency (EPA), The U.S. Fish and Wildlife Federation, The United States Coast Guard, Washington St. National Park Service, San Diego State University, Palomar College, Quinlan Texas Elementary School, Fairbanks Farms, Hunter Industries, Sonance Corp., Owens Brigam Medical, 1st Choice GMAC Realty, Century 21 Realty, Coldwell Banker Realty, Austin Productions, Fairfield Country Club, and Auer Precision Inc. Just to name a few.
Have a Clean Well Water Filtration Question? Call 1-877-788-8387 - Email: Sales@RainDanceH2OStore.com - Email: Support@RainDanceH2OStore.com - Use our Contact Form and we will have a water well filter representative contact you ASAP.
---

Iron Max

Whole House Iron Filter

This is a self-backwashing system that automatically removes the trapped contaminants within the filter bed and washes them down the drain. This is accomplished with the electronic control valve that is mounted on top of the Iron Max. This valve is controlled by a timer, that on a regular interval, initiates the backwash cycle that cleans the bed of filtration media and resets it for the next period of filtration.

The Iron Max-9 & 10 systems are fully delivered with filtration media already in the tanks. We do not ship filtration media separately for our customers to pour in and assemble. New: User friendly no-tools needed to attach control valve to tank - simply screw control valve on tank when ready for installation. This saves time, money, and headaches for the self installer, your local plumber, or dealer !

The system connects to the main line of your home and filters all the incoming water to it. It requires a nearby power outlet for the control valve.

The filtration media used is a mixed blend of state of the art high capacity filtration media. This blend of high capacity filtration media is designed for hydrogen sulfide gas "rotten egg odor", iron and manganese removal.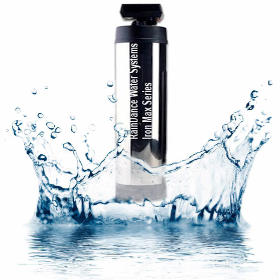 ---
The Iron Max line of whole house water filters:
Commercial:

Home | Commercial Reverse Osmosis | Light Commercial Reverse Osmosis | EDI - Electrodeionization | Pharmaceutical Water Filters | Reverse Osmosis Quote | Iron and Manganese Removal | Chlorine and Chemical Removal | Multi-Media Filters |Water Treatment Chemicals | Reverse Osmosis Membrane Cleaners | Reverse Osmosis Antiscalants | Reverse Osmosis Membranes | Commercial Water Filters | Commercial Filter Housings |Water Treatment Chemical Quote | Reverse Osmosis Membrane Quote || Water Filter Quote | Filter Housing Quote |

Residential:

Whole House Water Filters - Water Softeners | Iron Filters | Custom Water Softeners | No Salt Water Conditioners For City Water | Non Chemical Whole House Water Filter For Wells | Well Water Selection Catalog